Overview
Israel Fact
Jews aren't worried about the Golden Gate being closed. As one tour guide put it, "If the Messiah came this far, he'd find a way in."
David's Tower
The Four Quarters
Old City Map
The Arab Market
The Jewish Quarter
The Hurva Synagogue (Top: Old Arch; Bottom: Newly Rebuilt)
Israel Fact
Since the 2nd century, refuse has been hauled out of the city through Dung Gate, hence the name.
The Western Wall
Israel Fact
A Jew goes to the Wall every year and puts a prayer in the crack saying: "God please help me win the lottery." Year after year he loses. Finally, after several years, God speaks to him: "Nudnick, will you go and buy a ticket."
The Muslim Quarter and Temple Mount
Ophel Archaeological Garden
Israel Fact
The Dome of the Rock is often incorrectly referred to as the "Mosque of Omar" after the Arab caliph Omar Ibn-Khatib who built a mosque nearby. The Dome of the Rock was built 50 years later, in 691, by the Ummayyad caliph, Abd el-Malik.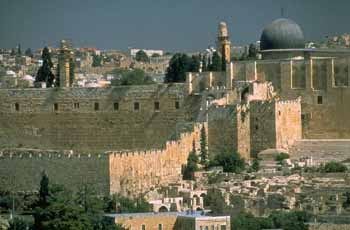 The Al-Aksa mosque (Ministry of Tourism)
The Ramparts
Israel Fact
Lions' Gate has near its crest four figures of lions, two on the left and two on the right. Legend has it that Sultan Suleiman placed the figures there because he believed that if he did not construct a wall around Jerusalem he would be killed by lions. Christians call it St. Stephen's Gate because he is said to have been martyred nearby. The Israeli assault to recapture the Old City in 1967 was made through this gate.
The Way of the Cross
Station I -- The place where Pontius Pilate's judgment hall once stood and Jesus was condemned to death.

Station II -- The Monastery of the Flagellation where Jesus was given the cross.

Station III -- The spot where Jesus fell under the weight of the cross for the first time.

Station IV -- Where Mary came out of the crowd to see her son.

Station V -- Simon the Cyrene was taken out of the crowd by the Romans to help Jesus carry the cross.

Station VI -- Recalls the tradition of Veronica stepping up to Jesus and wiping his face.

Station VII -- Where Jesus fell for the second time.

Station VIII -- The place where Jesus consoled the women of Jerusalem.

Station IX -- Where Jesus fell for the third time.

Station X -- Jesus is stripped of his garments.

Station XI -- Jesus is nailed to the cross.

Station XII -- The place where Jesus died on the cross.

Station XIII -- The spot where Jesus' body was taken down.

Station XIV -- The tomb of Jesus.
The Armenian Quarter
Israel Fact
The Armenian-style ceramics in the Arab market are usually mass produced. You get the real thing in the Armenian Quarter and can even watch the artisans create their masterpieces.
Previous
Next